The Sacred Jewel of the Himalayas
The first stopover for the Char Dham Yatra is the westernmost shrine of Yamunotri in the Garhwal Himalayas. Dedicated to Goddess Yamuna, it is perched atop a flank of the Bandhar Poonch Peak (3165 mts. above sea level) and is situated opposite to Gangotri. The shrine attracts devotees in large numbers from May to October.
Yamunotri is the source of revered river Yamuna which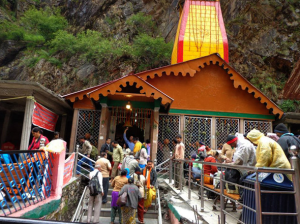 originates from the Champasar Glacier lying 1 Kms. ahead of the shrine situated at an elevation of 3235 mt. above sea-level. The approach is extremely difficult and pilgrims therefore offer pooja at the temple itself. The temple was bulit by Maharani Gularia of Jaipur in the 19th century. Yamunotri was the home of an ancient sage Asit Muni.
Major attractions:
There are hot springs close to the temple, a bath in them is very refreshing after a tedious 13 kms. trek from Hanumanchatti or 5 kms. from Janki Chatti.
General Information
Altitude: 3,235 mts.
Climate: Summer: Cool during the day and cold at night.
Winter: Snow- bound. Touching sub-Zero.
Clothing: Summer: Light woollens. Winter: Very heavy woollens.
Languages: Hindi, Garhwali and English.
Eating Out: Only local eating houses (dhabas) are available. Non-vegetarian food and alcoholic drinks are prohibited in Yamunotri.
Accessibility
Air: Nearest airport is Jolly Grant.
Rail: Nearest railhead is at Rishikesh.
Road: The road to Yamunotri diverts from Rishikesh – Gangotri road at Dharasu. Important road distances: Hanumanchatti 13 km; Dharasu 107 km; Tehri 149 km the roadhead for Yamunotri is connected by bus services of Samyukt Rotation Yatayat Vyavstha Samiti to Rishikesh, Haridwar and other major centres in the region.
Important road distances
Rishikesh to Yamunotri 222 km.via Narendranagar 16 km., Chama 46 km., Brahmkhal 15 km, Barkot 40 km, Syanachatti 27 km, Hanumanchatti 6 km., Phoolchatti 5 km., Jankichatti 3 km., and Yamunotri 6 km.