This sacred town, 52 km from Dehra Dun, marks the emergence of the Ganga into the plains, piercing through the Shiwalik Range. The devout believe that this is one of the four places in India upon which the nectar of immortality, amrit, fell. It has been churned out of the formless ocean and was being carried in a kumbhapot-when it spilt. On the zodiacal anniversary of this event, a huge religious fair, the Kumbha Mela, is held here every 12 years when hundreds of thousands of devotees bathe in the Ganga. Every six years the Ardh (half) Kumbh is held.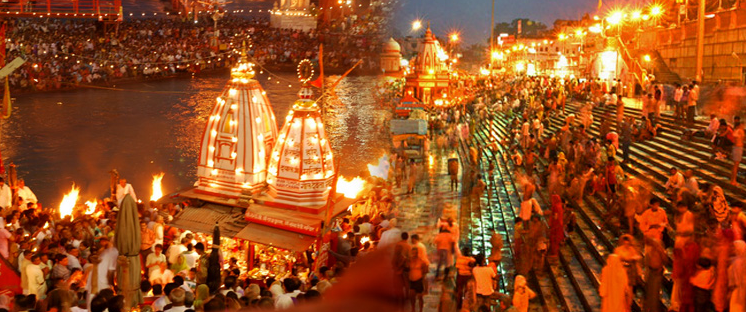 Getting there
By Air: The Jolly Grant Airport is 35 kms from Haridwar. Indian Airlines / Alliance Air operates a thrice weekly flight to Jolly Grant Airport from Delhi.
By Rail: There is a convenient overnight train from Delhi, which reaches early in the morning. The A/c Shatabdi Express, which leaves Delhi at 7 am every day except Wednesdays, also serves Haridwar.
By Road: Its around a 5 hours drive from Delhi, and about a 2 hours drive from Dehra Dun. Rishikesh is just 22 km away. Transport is provided to to interior regions of Garhwal, like Badrinath, Kedarnath, Joshimath, Uttarkashi, Tehri.